Will your goals achieve what you really want?
How many times do you hear someone say 'I want to be wealthy' or 'I want to retire early'. Perhaps you've said this yourself.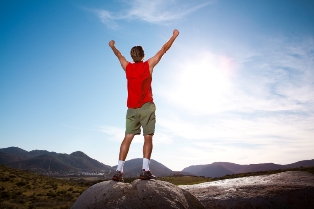 What else would you like to achieve in your life?
Perhaps you'd like to travel to exotic places, own your home and an investment property, too.
What about becoming an inspirational leader of a high-performing team at work?
Goals are simply dreams with deadlines.
Whether you want to get fit and fabulous or speak up at work about an idea you've had, you can make it happen using the process of goal setting.
Be clear about what you want
Thinking through and documenting your goal can be time consuming, but creating a clear definition of what success looks like, rather than rushing ahead, will give you a much better chance of success.
'If one advances confidently in the direction of his dreams, and endeavours to live the life which he has imagined, he will meet with success unexpected in common hours' Henry David Thoreau.
How to establish clear goals
Although it's not clear who created the GROW model (Goal, Reality, Options, Will), Sir John Whitmore is widely regarded as the creator of the GROW model for performance coaching. John used his experience to design the following checklist to help clarify if you have the 'right goal' and to give you a strong foundation to achieve it.
The key is that in addition to supporting an end goal that isn't in your control with a performance goal that is in your control, goals should be SMART, PURE, and CLEAR.

I was recently talking with my parents about their retirement experience. They don't consider themselves wealthy but they live comfortably in a nice house, they can afford to go on holidays and upgrade their car, and they generally don't go without. What fascinated me was their explanation of how they achieved it. Years ago, they sat down together and discussed their financial goal for retirement. They put a plan together and implemented their plan. Their process wasn't apparent to their friends or me, but I can overlay John Whitmore's goal-setting model to see that every one of the 14 elements was present in their approach.
The goal-setting challenge
Whatever you can do, or dream you can do, begin it. Boldness has genius, power, and magic in it. Begin it now."? William Hutchison Murray
Write down your goal on paper and then check step by step to see if it correlates with the 14 requirements across the SMART, PURE and CLEAR model in Figure 1.
Remember, if a goal is unattainable, there is no hope, and if it is not challenging, it will not motivate you.
"The journey of a thousand miles starts with a single step"
Lao-tzu, Chinese philosopher.
May your dreams become a reality…..enjoy the journey.
Books you may find interesting:
Contributor – Ancora Learning Consultant, Joanna Clary
Joanna is a skilled consultant, facilitator and coach. Joanna is  passionate about helping people during large transformational change programs, whether it's building knowledge, skills or assisting with cultural change.  Her experience leading Learning and Development teams; and Operational and Sales Business Units means she is able to integrate both theory and practice, fast tracking the benefits for clients and their customers.
Do you need help managing business change or helping your people make small but significant changes in behaviours, actions or performance?
Call us on 1300 ANCORA (1300 262 672)